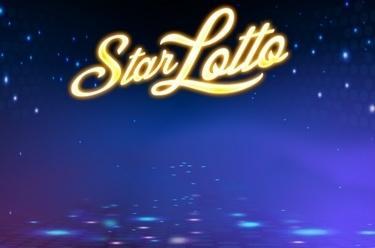 It couldn't be any better! In this slot you can choose your lotto numbers yourself and play with up to four different sets of reels with every spin. In addition, there are three ways to win. But wait... there's more! Star Lotto™ even has a jackpot... and a sweet robot to boot! If you don't try your luck here, where will you?
The aim of Star Lotto™ is to land six numbers that match the lotto numbers you picked out beforehand.
Bonus Symbols
The star symbol substitutes any number and can therefore increase your winnings.
Play Star Lotto™
At Star Lotto™ you can choose the six lotto numbers yourself: Simply use the green arrows above and below the numbers, or the red levers to the left and right, to select the numbers you want.
The game is played on up to four slots. You can activate or deactivate slots by clicking on them. Pressing the "Start" button triggers a short spin, after which the results are compared with the lotto numbers you chose. If the numbers match, winnings will be paid according to the paytable.
There are three ways to win:
A "First" win is achieved when the numbers on the reel(s) match your numbers starting from the left and running across to the right.
A "Random Positions" win is achieved when 2 or more of the numbers on the reel(s) match your numbers anywhere along your lotto slip.
A "Same Numbers" win is achieved when 4 or more numbers on the reel(s) feature on your lotto slip. If you land 4 matching numbers in the first spin, the numbers that are not part of the winning combo spin again. If you land a further matching number - making 5 in total - another spin is triggered to substitute the 6th number.
Jackpot
With every spin you have the chance to hit the progressive mystery jackpot. The size of the jackpot depends on your stake and is displayed in the paytable in the top-right corner.